Shopping Basket
Your Basket is Empty
There was an error with PayPal
Click here to try again
Thank you for your business!
You should receive an order confirmation from Paypal shortly.
Exit Shopping Basket
It's a thrilling time when an art commission is finished and ready to go to the customer. There is so much more to designing and creating these costumes that most realize. They can take as long as 6-12 months from start to finish. Each one is custom designed as true to life as possible and all painstakingly hand-created, and painted. ...A labor of love. Inspired by the Leptodea ochracea, common name the Tidewater Mucket. This one was created for the Delaware Estuary (.org) in , Wilmington, DE!
A little about my art costumes... They are typically for non-profit organizations (but not limited to that). Several are also planning to later add more native species educational costumes as they acquire grant funding. I have more designs in the works for realistic native species such as tadpoles, flowers, lightning bugs, butterflies, crayfish, bats, mushrooms, plants, fish, hummingbirds, dragonflies, birds, nuts, leaves, etc. I am able to design and craft my costumes so that I can customize each sub-species for special orders, depending on what species/subspecies of animal an organization or customer is interested in. For instance, instead of a Lampsilis fasciola, the wavy-rayed lampmussel, an organization might like a different species of mussel. Many animal species are endangered, threatened, or protected in some way. I've even done costumes representing aggressive, nuisance, or invasive species. They will use them together in skits for public educational purposes. I can do costumes that might tie in with history or our Native American education, as well.
Typically my costumes are commissioned for public education or for recreation use, but not exclusively. Most of these non-profit organizations will mainly use them for public education for things like center education programs, grade school education, festivals, Earth Day celebrations, book readings, home or private school activities, library functions, stream cleanups, demonstrations, rallys... For instance, The Upper Tennessee River Roundtable has written a short musical skit that they regularly perform at many regional area activities. Their skit includes a darter fish, dragonfly, hellbender and Pearly the mussel (another of my costumes). They recruit volunteers from local high schools, colleges, (theater kids), BPSA scouts, UU Churches, etc. to do these skits. The response is wonderful. Especially when they have other kids in the costumes or playing instruments! They are also often loaned out all over their region, as well. The Ohio River Islands National Wildlife Refuge is going to use their costume for regular public education at their large refuge center, as is the Delaware Estuary.
Because these costumes are used to educate very young audiences, I try to create them with an open-face concept so that the actor/wearer's face is visible, as I did with my Eastern hellbender costume. As you know, some creatures can be scary to the younger children. We've found that when the kids can see a smiling human face, it's a lot less scary. They tend to focus on the skit and the singing, and ultimately the message trying to be conveyed.
I have custom designed and created many varieties of costumes. They are not only individually designed, hand-made/sewn and hand-painted but painstaking stresses diligent and assiduous attention to details (in most cases like a canvas work of art). Because of this, I'm actually able to copywrite my costume designs! I try my best to create each one so that any size person could wear it. And that it be relatively light, as easy to move in as possible, with free hands, and not too hot.
When I'm creating a costume for a non-profit for education purposes (purchased from grants), I usually do those at cost and rarely make any profit from these. These generally run about $2,500-$5,000 and can take from 6 months to up to a year to design, make and have ready. This is my way of making a difference and giving back. If they are commissioned for profit purposes, the price is understandably more.
I enjoy working to create species-specific costumes. It's become a passion of mine!
Please, contact us if you have questions or to have your native species costume created! 
L. Costello Hinchey, artist
www.chstudios.net
https://www.facebook.com/chstudiosnet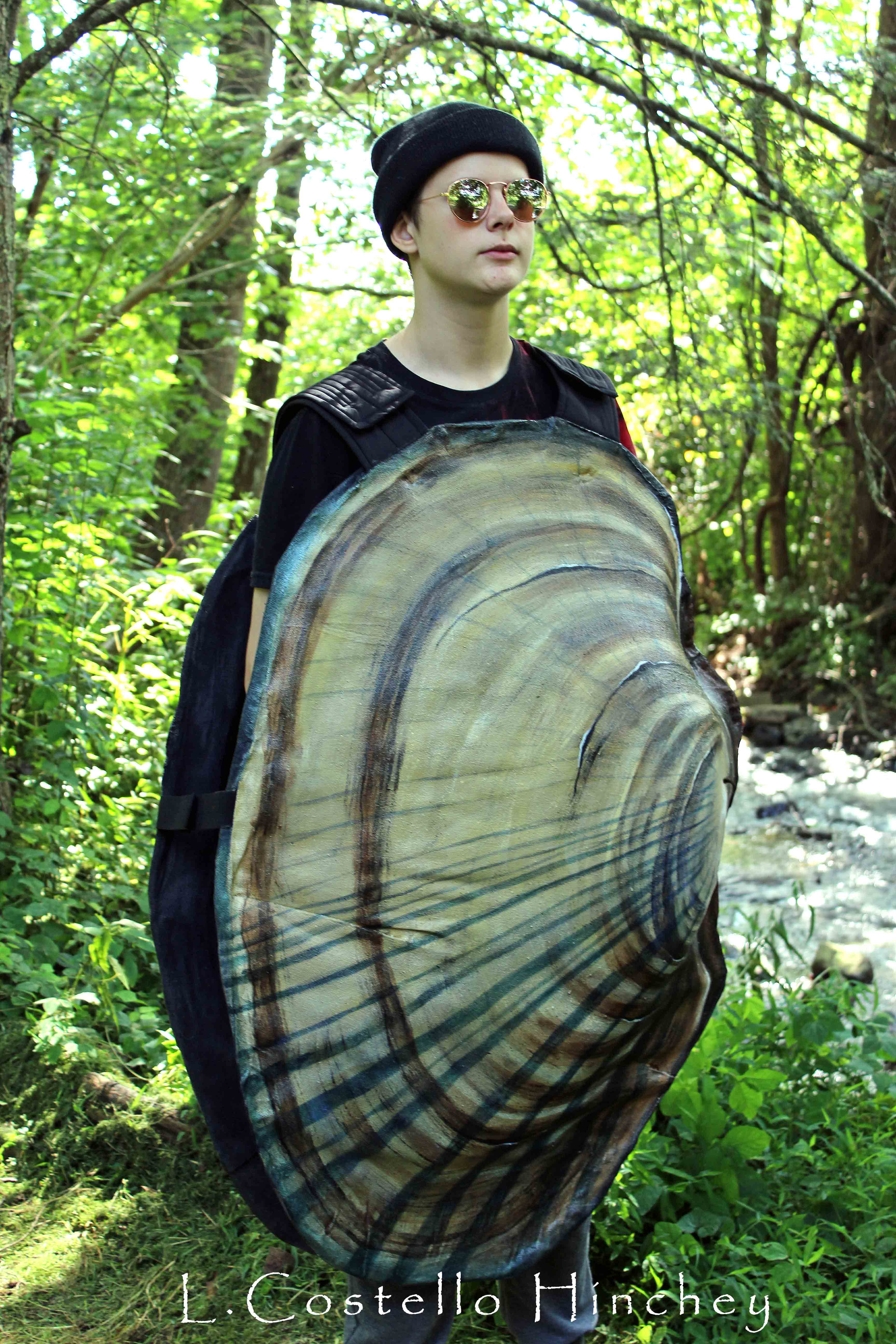 Categories: Costumes, Fine Art, Mixed Media
/